Mom, you know how I like to imagine redoing rooms in your house? I thought I'd share one of my plans with the world because I wanted some more content for my blog and since I'm going to all this trouble anyway, I might as well publish it.
Internet, I just came across
this picture
from The Lettered Cottage. It inspired me, to say the least.
My mom loves it, too. So I've put together a list of materials and how-to posts that will help you, too, turn your bathroom into a cottage bathroom!
First up: the shelf. The folks that own The Lettered Cottage totally tore out their wall-to-wall vanity and replaced it with a custom tall shelf-open vanity combo. That's more work than I want to handle. Instead, I recommend buying a shelf (like one of the
Billys
or
Trofasts
from IKEA) and anchoring it directly to the counter top on the existing wall-to-wall vanity.
Short Billy from IKEA
Tall Trofast from IKEA
This Billy is short, only ~42 inches, so you would need to frame in a small space between it and the ceiling. Easy-peasy. Here's
a post
, also from TLC, that shows how to make cabinets taller by adding moulding to the top. His turned out gorgeous! To use the Trofast, I would go out and cut 1x12's down to shelf size, paint them white, install at the correct heights, then frame the whole thing in with some 2" moulding on all sides, sealing the shelves in and making it look more expensive than what you paid.
Kona stain from Rust-Oleum
That pretty shelf was my jumping-off point. If you have a pretty white custom shelf, you need a pretty, dark wood counter top to contrast with it! Enter (again) IKEA! They sell solid wood counters for cheap, and I found some great options in
birch
or
beech
. The folks at IKEA recommend finishing these butcher blocks with oil, but that's only for kitchen use. For a bathroom, I say stain it and poly it. Our favorite stain is
Rust-Oleum Ultimate Wood Stain in Kona
. We used that on our bedroom furniture and had great success with the
chest and dresser
. It didn't take as well to the (probably maple) top of the
bedside table
. That's okay. It's cottage-y, so mismatch is fine, right?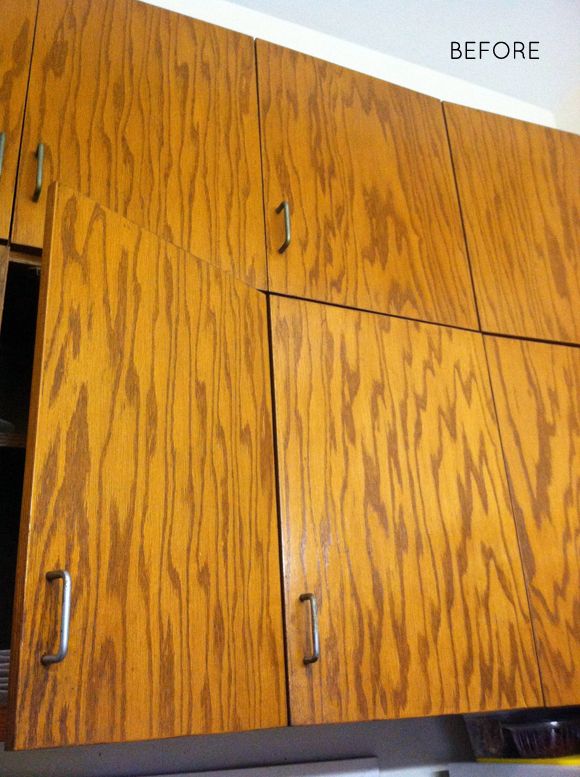 Little Green Notebook, Before
1/8x2"
or
1/4x2"
trim to size and frame in each door and drawer face. Paint that white, add those crystal knobs you've been holding onto, and it'll feel like a whole new room. Tutorial from Little Green Notebook. It's simple enough.
Part 1
and
Part 2
.
For the finishing touch, get rid of that 60-year old wall-to-wall mirror! It's cool to see the entire bathroom in the mirror, but this glass has seen better days. Send it to its maker. Or save it an create a mosaic. Just take it down and replace it with a 3'x4' mirror. You can spend big or small(-ish) here. I would buy a
frameless mirror
from Lowes and hang it according to instructions. Then, I would use
Liquid Nails
to adhere a light, mitered trim around its edge, directly to the mirror. (tutorial from Shanty 2 Chic
here
). It doesn't seem like the "right" way to do something like that, does it? But if you use a light-ish trim, the strong glue should be plenty to hold it on. How much stress are you going to be putting on your mirror frame, anyway?
Before you hang that sucker up, take a moment to contemplate paint colors. I have a few favorites:
Fisherman's Net, Revere Pewter, Comfort Gray
My bedroom is done in Revere Pewter by Benjamin Moore (lightened to 75% intensity). It's a pretty solid gray color. My family room and my MIL's bathroom are both done in Fisherman's Net (Pittsburgh Paints), which looks a tidbit green in sunlight. That color could go anywhere! Comfort Gray is the blue version of those colors, made by Sherwin Williams.
As for the floor, my mom already has a handle on that. But Daniel and I have been looking at flooring, recently, and by FAR the coolest, most durable (and easiest!) floor we've seen is
Invincible Vinyl tile
s from CarpetOne. The tiles click together in a watertight seal and have a scratch- and dent-resistant finish. They're about 1/4" thick, so they won't mess with your floor level too much, and, best of all, they float on top of your subfloor (or the linoleum you're trying to cover up). No glue or tacks to mess with; just install by clicking them together (making any trims that might be needed on the edges), install your baseboards over the top, and presto! You're done! This'll set you back $5-10/sf, which is great, compared to many manufactured tiles and fantastic, compared to natural stone.
Phew! I'm not going to touch the fixtures. They are pink. I'll let my parents decide on the best course of action for those. You know where to buy new bathroom porcelain.
This concludes my public letter to my mother. This is so much more fun than a boring old email! I love the embedded pictures. Go forth and renovate!